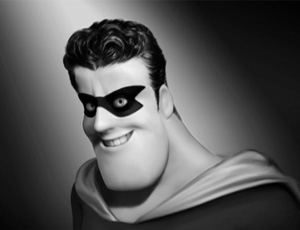 Superhero long thought deceased, found.
Sonic field voice projection, dazzling charisma, ability to convince anyone of anything.
Transportation - Modified BMW coup with ability to transform and change colors - go invisable for short periods, traveles at super sonic speeds.
Weakness - Sonic feedback, llaryngitis, beautiful German women, candy, his daughters, video games, road biking,Rick Ross, and zamboni drivers.
Personality
Edit
Team affiliation - The Thrilling Three (Now disbanded)
Cover story while active: Department of Defense (DOD) Performer. Allowed him to travel around the world in support of the troops while running covert missions mostly in and around the 

Mediterranean

 area.
Demands too much attention, can be moody
Never really embraced by the public
Quit Thrilling Three because he saw team as "Gazerbeam's Gang"
Discovered power while performing, onstage at theme park (Great America in Ca.)
Secret identity - Digital Marketing and data specialist, a modern day mad man for digital advertising.
UPDATE: Thought to be deceased no more. Solid evidence of him in and around the Northern California area, specifically Sacramento.